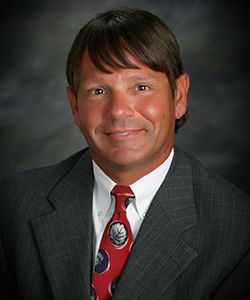 A sharp eye for detail and a dedication to setting clients up for success characterize Chris' approach to accounting. A member of the Darnall, Sikes & Frederick Audit and Financial Services Committees, Chris has years of experience dealing with income tax for individuals and corporations, audits, finance statement reviews, and business valuation.
Chris joined Darnall, Sikes & Frederick in 1990 after earning a Bachelor of Science degree in Accounting at the University of Southwestern Louisiana (now University of Louisiana at Lafayette). A licensed financial advisor, he has passed the FINRA Series 7 and 66 exams and is a registered representative with 1st Global Capital Corp. Chris is a member of the AICPA, SLCPA, and serves on the Board of Directors for the Lafayette Chapter of the SLCPA. Chris is also a Certified Valuation Analyst (CVA) with the National Association of Certified Valuation Analysts, a designation which indicates a high level of expertise and experience in business valuation.
Chris believes in empowering his clients to set clear financial goals and derives a great deal of professional satisfaction from assisting them in reaching those goals.
Securities offered through 1st Global Capital Corp., Member FINRA, SIPC. Investment advisory services offered through 1st Global Advisors, Inc. Insurance services offered through 1st GLobal Insurance, Inc. We currently have individuals registered to offer securities in the states of AR, AZ, CA, CO, CT, DC, FL, GA, ID, IL, IN, LA, MO, MS, MT, NC, NM, OK, OR, PA, SC, TN, TX, UT, VA, WA, WI, and WY.
Back